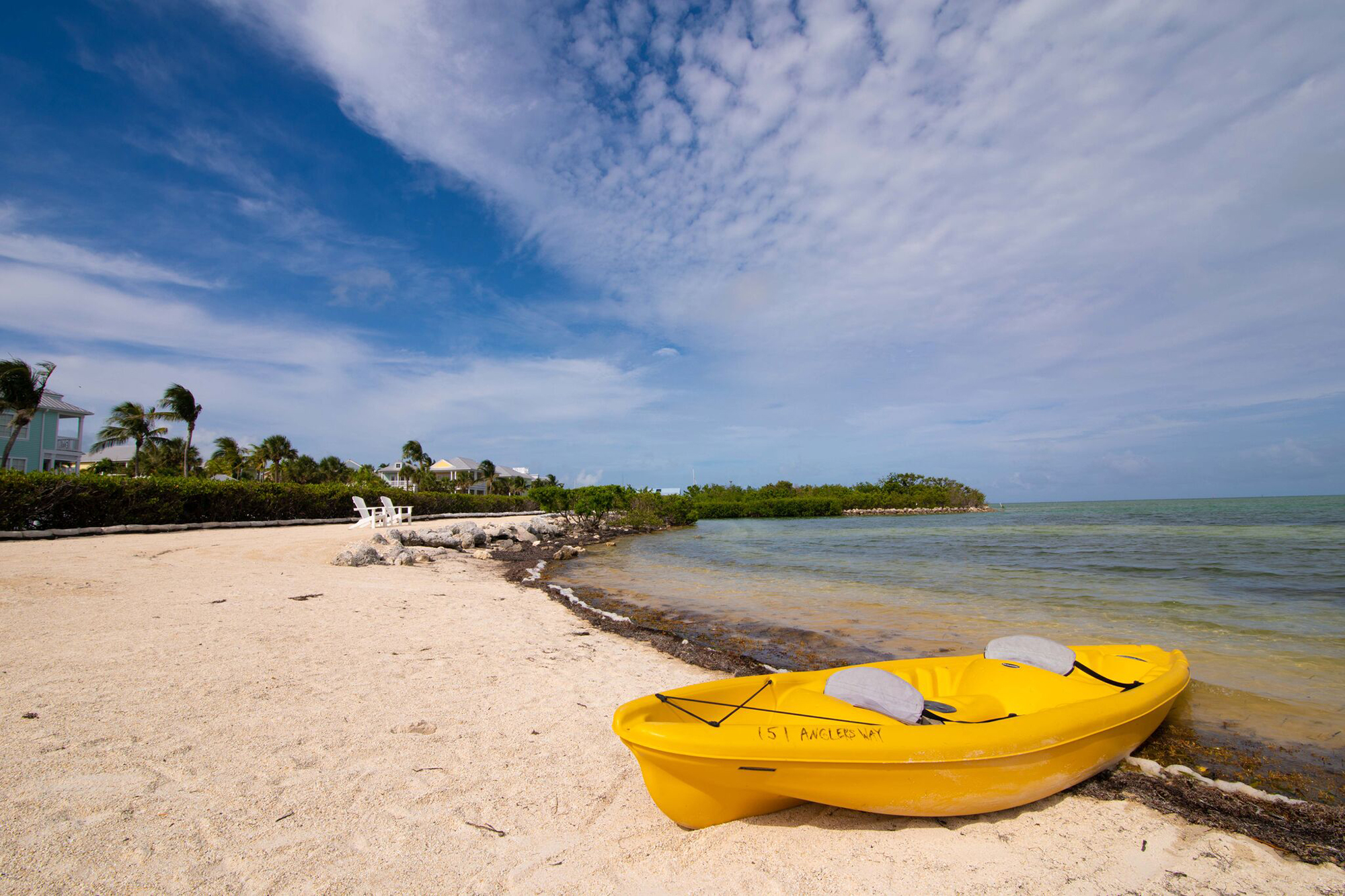 Islamorada is located in the Upper Keys, about halfway between Miami and Key West. Nicknamed the Sports Fishing Capital of the World and known to have the best restaurants in the Keys, there is much to do in, under, above or near the waters surrounding Islamorada.
In the water, you can boat, kayak, paddleboard, parasail, jet ski, snorkel, scuba dive, or even cruise out to the Alligator Reef Lighthouse or the Tiki sandbar. You can also swim with dolphins, sea lions, and sea rays at Theater of the Sea (less than a mile south). Or if you have had enough water, check out the local parks, pampering spas, exclusive shops and a large array of amazing restaurants. Be sure to catch a sunset from the many restaurants or bars along the gulf side. And if it's a full moon, adults may want to head over to Morada Bay for their famous Full Moon Parties, beach parties with multiple bonfires in the sand, specialty drinks at their indoor and outdoor bars and live entertainment (covers apply).
Islamorada is synonymous with the best fishing – gulf, backcountry or ocean. There are plenty of guides, charters or boat rentals (we have a suggestion list to help you out). You can also try for hogfish, snapper, Mahi, tuna, bonefish, tarpon, snook, & more. Right at the Anglers Reef docks, you can catch mangrove snapper, ladyfish, jack crevalle, moonfish, grunts, mullet & barracuda depending on the season. We had one lucky vacationer catch a 70-pound Tuna right off the docks.
Restaurants:  Amazing restaurants in Islamorada! The closest is Hog Heaven and Smuggler's Grill, a short 5-minute walk. By car, within a few miles, are plenty of delicious oceanfront or bayfront restaurants. See our recommendations book in the home.
Parks in Islamorada, Village of Islands:  Just 2 miles north is Islamorada Founders Park at MM 87 Bayside, which offers activity or relaxation for the whole family. An Olympic-sized pool with diving area, a shallow water beach, playground, tennis, basketball and pickleball courts, fitness and walking trails, ball fields, fishing jetty, golf driving range, amphitheater, boat ramp, and more are within the 40-acre park. Fees may apply. Village municipal parks also include the Islamorada Library Beach and Anne's Beach. There is the Windley Key State Geological Site, a state park, at the site of a former coral rock quarry. In addition to shady walks through unique foliage, fossils of sea creatures can be seen throughout the park. A free guidebook is available at the visitor's center for use during your stay in the park. Islamorada also offers an 18-mile bicycle path that extends the length of the Village.
Attractions:  Swim with dolphins at Theater of the Sea 1/2 mile south. The Islamorada Chamber of Commerce visitors center is also near the entrance to Founders Park for local info as well as affordable postcards, posters, T-shirts, and books. A great day trip is to drive to Marathon and to check out the Turtle Hospital and Dolphin Research Center. And don't forget about a day in Key West. The drive alone is worth the trip, which includes the beautiful 7-mile bridge and other Keys you will pass along the way down.
Grocery & Other Shopping:  There are small markets around Islamorada, Publix Supermarket is just South at MM 83 Bayside or for smaller quick items there is CVS or the Trading Post. Plus watch for farmers markets around town. Worldwide Sportsman, West Marine, and cool shops and boutiques are around the city as well.
Other Stuff:  Sunsets are an event in the Keys. The best places to see them are the Islamorada Fish Company, Lorelei, Market 88, and Morada Bay. And don't miss a visit to Robbie's Marina, where there is an outdoor flea market with island stuff and where you can feed the Tarpon and eat/drink at the Hungry Tarpon. Also don't miss Islamorada Fish Company, where they feed Tarpon and Sharks at Sunset. And if you are in the need of a gym, check out Froggy's Fitness.
Scuba/Snorkel:  Islamorada, long recognized as the 'Sports Fishing Capital of the World,' is now an icon among sports divers for a similar reason: a massive population of tropical marine life. High profile coral heads and broad ledges shelter huge congregates of French grunt and goatfish, while regal queen angelfish casually graze amid the reef recesses. Friendly green moray eels swim freely along the spur-and-groove channels, and reclusive nurse sharks lurk beneath the overhangs. Islamorada offers a wide variety of shallow coral reefs, mini walls, shipwrecks, and even an underwater habitat for scientific research, the Aquarius. To learn more about Islamorada or any other manner of local lore, stop by the Chamber of Commerce at MM 82.5. For great Islamorada diving and snorkeling, check out:
Alligator Reef – Now marked by a 136-foot-tall lighthouse, on this spot in 1822 the USS Alligator grounded and sank while protecting a convoy from pirates; remains of the wreck are the twin piles of ballast stones, but the coral reef, in just 25 feet of water, is vibrant and alive. 189 species have been identified at this site.
Cheeca Rocks – Great depths for snorkeling (8-20 feet), easy to access as closer to shore (just a short boat ride), and the area is packed with medium-sized fish and beautiful coral.
Conch Wall – A precipitous sloping wall and captivating concentrations of barrel sponge and gorgonia punctuating the seafloor.
Crocker Wall – A 450+-foot-long wall in 50 feet of water. The wall has a 30-foot decline and features grunts, yellow tail and grouper with spur-and-groove coral and block coral on the wall.
Davis Reef – Reef revered for its incredible concentration of grunts and schoolmaster snapper, as well as several amiable resident green morays, long accustomed to benign interaction with the dive masters.
The Eagle – This 287-foot ship was intentionally sunk in 110 feet of water as a dive attraction, cloaked in sponge and coral, populated by huge schools of grunt, harpoon, and jack.
Hen & Chickens Reef – Beautiful patch reef in 10-20 feet of water and easy to access as closer to shore. Healthy hard corals and sponges and interesting underwater topography. From above, the coral formations resemble a mother hen with her chicks.
Pickles Reef – Encounter the reef's minutia, from flamingo tongue cowries to banded coral shrimp, in 15-25 feet of water.